Happy Monday
from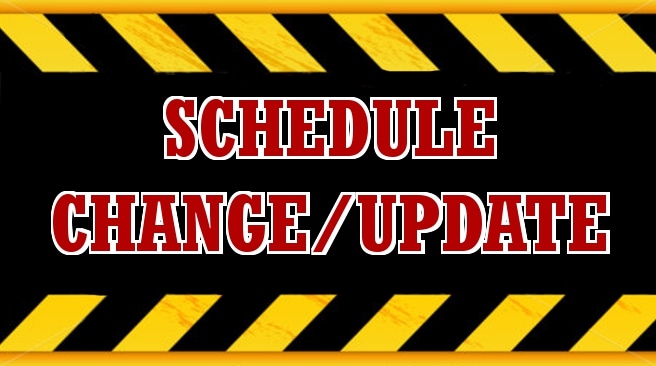 Thank you for all of the input. We have listened and made a few small tweaks to the schedule as a result of your feedback.
 Here is the updated schedule for to you check out.
The new schedule will be active starting Tuesday, September 5th.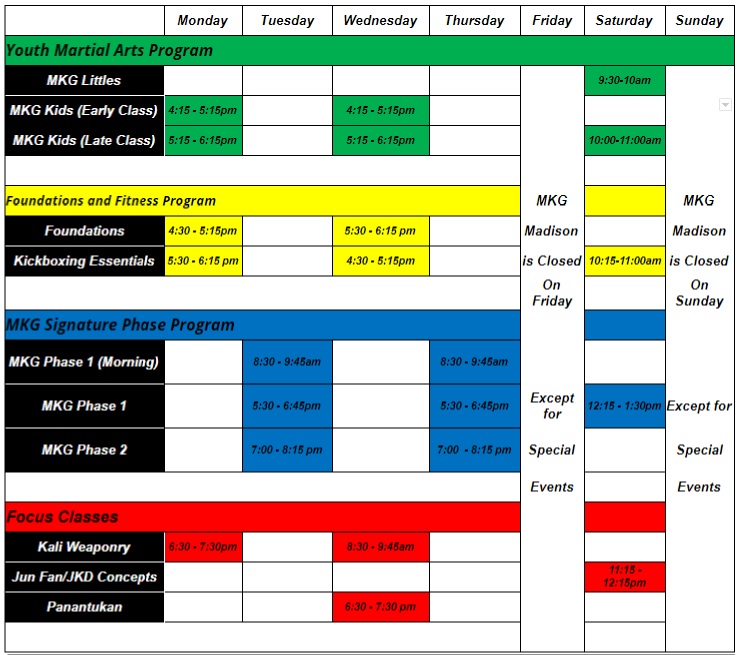 If you have any questions make sure to contact us directly at info@mkgmadison.com
This week in class . . .
MKG Littles and Kids TESTING WEEK!!!! Monday will be a Mock Testing and Q and A day!
MKG Kids – Wednesday, August 23rd at 4:45 pm
MKG Littles – Saturday, August 26th at 9:30 am
Foundations and Kickboxing Essentials is moving on to week 4. Continuing our Double Stick Abecedario and Kicking Focus.
MKG Phase 1 – Finishing up Double Stick Drills with a mobility focus and Foot Jab Counters
MKG Phase 2 – Guro Inosanto Probing Double Stick drills and Low Line Kicking Focus
I am still processing camp, so it is still POST CAMP WEEK. Who knows what will come up at in the Focus Classes. You will have to show up to find out!
Testings
MKG Kids
Wednesday, August 23rd – 4:45pm
MKG Littles
Saturday, August 26th – 9:30am (No MKG Kids Class)
Panantukan Level 1
Friday, August, 25th – 6:00pm
Student Appreciation Potluck
Workshops and Seminars
Guro Dan Inosanto at MKG HQ Mpls
September, 23rd and 24th
---
Guro Diana Rathborne at MKG Madison
October 13th and 14th
---
---
If you haven't heard we have a great offer for people try martial arts at MKG Madison at a great price.
New students (and previous students that have not train with us for over 6 month) have an opportunity to start a journey in martial arts for only $69.99! This offer includes a Free T-shirt, a Free Introductory lesson and Consultation and 3 classes a week for 6 weeks!
If anyone is looking to get into (or back into) martial arts dont miss this offer!
---
If you have any friends that would like to check out MKG Madison stop by the desk for an Invite-Only Card for a 1 Week Free Pass.
This can only be given by a current student to a friend that is serious about beginning their martial arts journey! If they decide to join us and enroll for classes at MKG Madison you get FREE private lessons!
We look forward to seeing you all in classes this week! So get in here and get your reps in! As always, we will be Training Safe, Training Hard and Having a ton of Fun! Don't miss out!
See you at the gym!
Josh, Ruth and the MKG Staff
MKG International Martial Arts Madison
https://www.mkgmadison.com
info@mkgmadison.com
608-222-0377